Collodial iZVI™ Ideal for In Situ Remediation of Chlorinated Solvents, Hazardous Metals, Herbicides, and Pesticides
October 27, 2023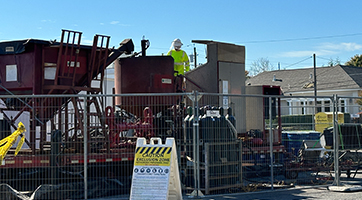 BOTHELL, WA— Cascade Environmental ("Cascade"), the leading field services contractor of drilling and remediation services, recently added an in situ groundwater remediation chemistry to its Cascade Chemistries™ line of injectable amendments, enhancing its suite of turnkey services for the characterization and remediation of contaminated sites throughout the United States.  
Collodial iZVI is a proprietary colloidal injectable zero valent iron (iZVI), formulated by Cascade, that targets contaminants in transmissive zones down gradient of the source or in barrier applications. It's also effective in remediating less concentrated source areas to treat contaminants through chemical reduction. This injectable iZVI eliminates the need for fracturing with larger ZVI particles optimizes distribution and contact in target contaminant zones, and can be combined with other remediation chemistries including anaerobic bioremediation and bioaugmentation or our ColloidalChem chemistries. 
"Cascade Chemistries continues to innovate, and the inclusion of Colloidal iZVI is a testament to our dedication to leading-edge groundwater remediation techniques," shared Eliot Cooper, Vice President of Technology and Business Development. These chemistries, which include CollodialChem™ and SourceKill™, as well as the Pathfinder™ automated injection system, are designed to help our clients reach rapid and cost-effective site closure. Colloidal iZVI offers documented advantages over traditional bioremediation and chemical oxidation approaches."  
"Collodial iZVI is just the latest tool in our toolbox of remediation technologies," said Scott Wisher, Executive Vice President. "We support consultants with a wide range of options to meet their client's goals, including injection, fracturing, thermal remediation, permeable reactive barriers, soil mixing, and more."  
For more information on Collodial iZVI and integrated turnkey remediation services, visit www.cascade-env.com. 
About Cascade

Cascade is a field services contractor that partners with our clients to provide seamless environmental and geotechnical solutions from concept to completion. Our vision is to integrate technology, safety, sustainability, and human potential to tackle the challenging environmental and geotechnical issues facing our clients. For more information on Cascade, please visit www.cascade-env.com. 
Contact
 
Eliot Cooper  
Vice President of Technology  
Cascade Environmental  
[email protected]  
(303) 669-7443