April 4, 2023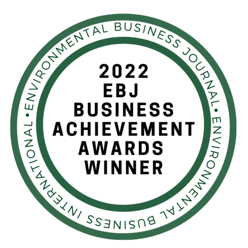 Environmental Business Journal® (EBJ) has honored Cascade with a Business Achievement Award for project merit. Awards were given for projects that completed or passed a significant milestone in 2022 and were noted for innovation, unique solution, or partnership (in water, remediation, NRM, EC, or other areas).
"In a rather tumultuous year of economic ups & downs in 2022, a number of companies set themselves apart with performance, transactions or projects that merit special consideration," said Grant Ferrier, editor of Environmental Business Journal and chair of the selection committee.
Cascade provided support in the delineation, remediation, and excavation of PCE and daughter products on a site slated for redevelopment. Because of the large chlorinated plume, Cascade first conducted high resolution site characterization, then treated the hot spots via injection of CleanER™ iZVI supplemented with bioaugmentation. This strategy allowed the consultant to home in on the actual source zone for Cascade to treat and excavate. Because the subsurface contained sandy layers, Cascade treated the dissolved plume prior to the source to maintain the overburden pressure and ensure expected performance. An existing dilapidated structure over the source zone added another challenge; built with asbestos-containing materials, its demolition required careful safety precautions. Groundwater sampling at 30/60/90 days showed treatment was effective in reducing groundwater contamination, and plume sampling indicated reduced concentrations. A second round of injections is scheduled for 2023 to further reduce contaminant concentrations to levels appropriate for monitored natural attenuation and redevelopment.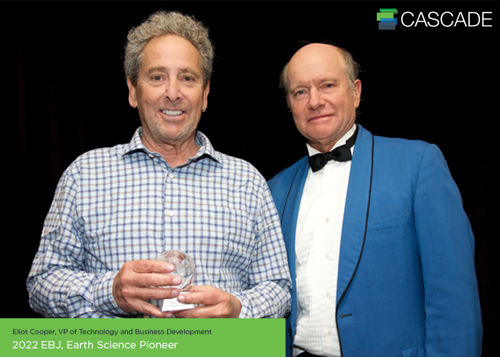 Eliot Cooper, Vice President of Technology at Cascade Environmental, received an EBJ Lifetime Business Achievement Award as an Earth Science Pioneer. Eliot has served the environmental services industry for more than 30 years. During his career, he has driven remediation technology development, optimized approaches for existing technologies, and become a renowned industry educator on a range of remediation topics.
Eliot is known for his expertise in both remediation injection operations and chemistry. He recognized the value of high resolution site characterization early on and saw how it would benefit remediation injection—now considered an intrinsically integrated part of the industry.
Eliot is the driving force behind Cascade Chemistries, a line of next-generation amendments designed for the toughest contaminants. He also designed the Pathfinder™, the first fully-automated injection system. Eliot invests his time in educational opportunities for environmental consultants, moderating an active LinkedIn group about PFAS and presenting a robust schedule of webinars.
The 2022 EBJ awards was presented in-person at the EBJ Business Achievement Awards banquet at Environmental Industry Summit XXI on March 22-23, 2023 in San Diego.