Showcasing Commitment to Environmental Responsibility and Social Impact
May 25, 2023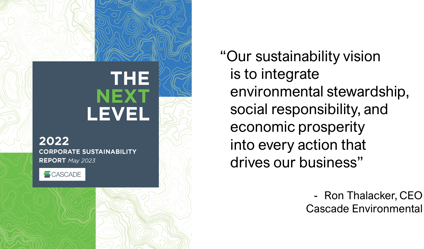 BOTHELL, WA—May 25, 2023—Cascade Environmental ("Cascade"), the leading field services contractor for drilling and remediation in the United States, announces the release of its comprehensive Corporate Sustainability Report, highlighting its commitment to sustainable practices, environmental stewardship, and social responsibility.
The Corporate Sustainability Report reflects Cascade's dedication to continued transparency in communicating its sustainability initiatives, goals, and achievements. The report provides stakeholders with valuable insights into the company's sustainability performance and future strategies.  It is developed in accordance with internationally recognized guidelines, including the Global Reporting Initiative (GRI) and Sustainability Accounting Standards Board (SASB).
"Our sustainability vision is to integrate environmental stewardship, social responsibility, and economic prosperity into every action that drives our business," said Ron Thalacker, Cascade's CEO.  "To achieve this vision, we are focused on building resilience by prioritizing employee retention, fostering strong relationships with our suppliers and clients, conducting business ethically, and ensuring profitability. Our sustainability strategy includes policies and programs that promote quality execution in every aspect of our business, reinforcing our commitment to sustainable growth in the face of change."
Some of the highlights include:
Total recordable industry rate consistently under 1.0 with over 2 million hours worked.
The company's first Climate Action Plan including carbon inventory, GHG emissions reporting, and a three-year roadmap for carbon reduction.
Innovative products and services for sustainable remediation, including characterization and remediation options for PFAS contamination.
Recruiting, retention, and engagement efforts to support long-term, rewarding careers.
"We are proud to share the progress we have made in integrating sustainability into our operations over the last decade. Our Compass™ Corporate Sustainability Program exemplifies our commitment to transparency and accountability throughout our value chain," stated Sue Bruning, Vice President of Client Experience & Sustainability at Cascade. "Through effective governance and continuous improvement, we strive to lead by example, inspire others, and create a positive impact on the environment and society."
Cascade's Corporate Sustainability Report is now available for download from the company's website at www.cascade-env.com/about-us/sustainability. The report serves as a valuable resource for stakeholders, including customers, investors, employees, and community members, fostering greater understanding and collaboration in achieving shared sustainability goals.