- Jessica Alexander
Careers in environmental services offer great pay, on-the-job training, and high demand for experienced professionals—attributes that are attractive to nearly everyone. But despite making up nearly half the US workforce, there just aren't that many women working in environmental services.
That's a shame, because it means our industry misses out on the unique contributions of a female workforce, and nearly half the candidate pool misses out on a viable job opportunity. It doesn't have to be that way.
If you are a woman looking for a promising career path, here are seven reasons you should consider environmental services.
Reap the benefits of career advancement opportunities
The environmental services industry is niche and small, and like many niche industries, companies tend to promote and grow their talent from within. Embarking on a career in environmental services presents hardworking, dedicated, and ambitious women with opportunities to grow their career as far as they'd like.  
Make an impact
In this industry, we are involved in addressing issues ranging from clean water, public safety and infrastructure to the identification and clean-up of harmful contaminants. Even though every project (and thus, every work day!) can be different, the common thread is that your work makes a tangible, positive impact. The work you do in this industry helps ensure the sustainability of our planet for future generations to come. What could be more important than protecting the environment so our children, grandchildren, and great grandchildren can thrive?
Use new, cutting-edge technologies
Honestly, environmental remediation technologies are really cool! Whether you're working on bioremediation (supercharging microbes so they can break down dangerous contaminants), using sonic drilling (capable of boring through nearly any kind of soil or rock, and sometimes used in treasure hunting), or working with high resolution site characterization tools (that can create 3D models of subsurface contaminants that you can walk through and examine up close using virtual reality technology!), you'll have the chance to use advanced technologies that few people ever get to experience.    
Enjoy financial stability
While we all want a career that is rewarding, challenging, and gives us a sense of purpose, we can't ignore financial realities. Money pays the bills, and you deserve a career that allows you to provide for yourself and your family. The environmental services industry offers lucrative job opportunities to people of all education and experience levels.
Travel across the country (and the world!)
Many people dream of having a job that involves travel, but very few present you with the opportunity to see new places every week. The very nature of the environmental services industry requires travel, often to some of the most remote and beautiful places imaginable. Depending on your role, you may travel across the United States or even the world to complete crucial environmental remediation projects. If travel is a priority, then this industry may be an excellent fit! 
Get mentored and grow
Because our industry is niche and relatively small, you'll get to know other professionals who will support and mentor you—and you'll have the opportunity to do the same. Whether it's during conferences or while working in the field with your crew, you'll connect with people who can help you grow.
Apply your hands-on expertise
Not everyone is meant to work behind a desk. If you prefer to keep moving and work with your hands, a job in field services may be an excellent fit. Field services professionals work on a wide range of environmental projects, and no two days are ever the same. You'll have the opportunity to tackle new challenges and activities on a daily basis. 
There are so many reasons to build a career in the environmental services industry, and opportunities are not limited by gender. If you're a woman wondering what career best suits you, I hope you'll consider the environmental services industry. 
If you have questions about careers in this industry (or at Cascade), reach out to me at [email protected]. You can also check out our current opportunities at cascade-env.com/careers.
ABOUT THE AUTHOR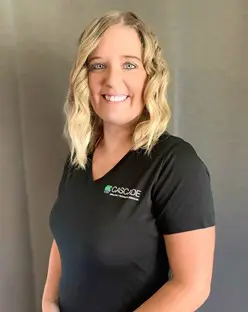 Jessica Alexander, SHRM-SCP
DIRECTOR OF TALENT ACQUISITION
[email protected]
Jessica Alexander is the Director of Talent Acquisition for Cascade Environmental, LLC. She holds a B.S. in Human Resource Management, B.S. in Business Administration, MBA, and Doctorate of Philosophy (ABD) in Human Resource Management. After completing ten years of military service in the United States Air Force in the Logistics and Transportation Management field, Jessica launched a distinguished career specializing in recruiting and talent development. She is passionate about the development of people and their ability to drive companies forward.