- Jessica Alexander
Your employees' lives have changed drastically in the past 12 to 18 months. They've shifted to remote work, adjusted to home schooling, and adapted the way they live and socialize. They've made it through difficult challenges, but the experience has changed how they see their careers. Smart employers will recognize that, in order to retain their best employees, they must also adapt.
As an organizational leader, have you thought about continuing remote work for certain roles? What are the challenges and benefits that may offer your company?
Have you considered the toll that COVID lifestyle changes may have had on your employees and how it might impact their future performance?
Have you imagined the support that your employees might need as they transition back into "the new normal"? 
In today's blog post, we'll consider these questions and highlight how organizations can embrace flexibility to achieve one very important post-pandemic goal: retaining the workforce.
Flexible Policies for Work
Many organizations are trying to decide whether to bring all employees back to typical in-person schedules. There are many considerations, such as whether your organization can safely distance employees, whether employees (vaccinated or not vaccinated) will be comfortable returning to an office setting, or if this decision will create hardships for working parents who may still have children at home without alternate school or childcare options.
Life happens, and during the pandemic the majority (if not all) of your employees made enormous lifestyle changes so they could continue working while managing the other components of their life. We can reciprocate that flexibility by avoiding policies or changes that unanimously impact all employees without making any individual considerations. Consideration of this kind can build loyalty—it shows your employees you recognize what they've had to handle the past year and a half, and that you have their back as we move forward.
Naturally, some changes will have to made. Keep in mind that the method in which your organization announces and implements change can be equally important as the change itself!  Consider surveying employees to see what they may or may not be comfortable with, or use a phase-in approach to implementing a change. These types of approaches help demonstrate your organization's commitment to flexibility and adaptability.
Support for Change and Wellness
The pandemic created additional stressors for many employees. They may have been laid off from their jobs, separated from their families, moved to remote working situations, and/or struggled with limited social interaction and high stress situations.
Remember that the impact of these stressors can manifest in different ways amongst your employees. While some individuals may have coped with self-destructive behaviors, others may have formed newer, more positive routines to deal with their stress, such as physical fitness, religion, or meditation. Regardless of how employees adapted during the pandemic, the employer response should provide flexibility and support for wellness. A few questions to consider:
Does your organization provide benefits in the form of Employee Assistance Programs (EAPs) for those employees that may be struggling with alcohol or drug abuse, domestic violence, anxiety, or depression?
Will your employees be able to achieve work-life balance under the company's "new normal"? In other words, if you create a new 9-to-5 in-office schedule, how will that impact your employee's routines that have been established over the past 18 months?
Does the organization provide incentives around wellness, whether that be for physical, mental, or emotional wellness? Do employees know how to take advantage of those incentives?
Creating your organization's "new normal" will take time and planning, but keeping flexibility top of mind is key. There are more hiring and retention challenges than ever, but a commitment to being flexible, adaptive and employee-centric can make all the difference.
Have questions about retention and hiring? Reach out to our Director of Talent Acquisition, Jessica Alexander, at [email protected]. 
ABOUT THE AUTHOR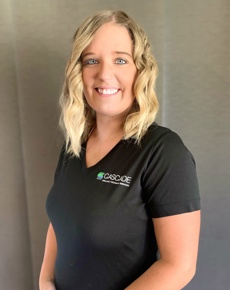 Jessica Alexander, SHRM-SCP
DIRECTOR OF TALENT ACQUISITION
[email protected]
Jessica Alexander is the Director of Talent Acquisition for Cascade Environmental, LLC. She holds a B.S. in Human Resource Management, B.S. in Business Administration, MBA, and Doctorate of Philosophy (ABD) in Human Resource Management. After completing ten years of military service in the United States Air Force in the Logistics and Transportation Management field, Jessica launched a distinguished career specializing in recruiting and talent development. She is passionate about the development of people and their ability to drive companies forward.