- Cascade
Environmental Drilling in the winter presents a multitude of health and safety challenges that must be addressed before the cold weather sets in. The fall season is the perfect time of year to start preparing for the challenges of winter work. Frequent rig breakdowns, lost production, and tooling failure are just some of the consequences of being under-prepared, but each of these cold weather detriments can be easily mitigated if one follows the proper steps.
Let's take look at the three main areas of cold weather preparation with some specific tips on how to best prepare in these areas.
PPE
Proper PPE is essential for the safety of drilling crews working outside throughout the winter months. Hypothermia, frostbite, and slips, trips and falls are cold weather hazards that can be prevented with adequate preparation. Here are a few tips to be properly prepared on a cold weather jobsite:
Avoid 1-piece coveralls, which can restrict movement.
A variety of gloves should be available, in a variety of sizes. Crews should rotate gloves often making sure to always have a dry pair on hand (pun intended!)
Wear cut-resistant liners under winter gloves instead of cut-resistant winter gloves. Liners have better dexterity, are higher quality, are more cost-efficient and have a wider variety to choose from.
Wear boots with good traction to prevent slips, trips and falls. In some cases, ice cleats are needed as well.
Hooded sweatshirts are great for warmth.

Keep in mind, however, that wearing ear muffs over a hooded sweatshirt reduces the ear muffs' effectiveness. Consider instead wearing ear plugs along with ear muffs.
Choose hooded sweatshirts with a removable hood to protect workers around rotating parts.
Vehicles and Equipment
Vehicles and other equipment are also affected by winter temperatures, which presents a real issue on environmental remediation and environmental drilling sites as the work obviously depends on these assets. Increased breakdowns and lost production are common without proper preparation. Take the following precautions to help ensure that jobsite vehicles operate as needed:
Increase engine service intervals during the cold weather months as engines run at idle more often, and sometimes run all day.
Choose lighter hydraulic oils, preferably synthetic. These oils move through a cold system more easily, saving wear and tear on pumps and valves.
If you are running diesel engines, start using additives, such as Power Service, to remove moisture and prevent gelling. Change fuel filters at every oil change and keep tanks full to prevent moisture build up.
Check tire pressures often, especially in the steer tires. Lower temps will cause lower tire pressure.  In fact, tire pressure can drop 1 PSI for every 10 degrees the temperature drops. Often this isn't noticed until the tire pressure warning light comes on in the vehicle. Driving on low tires is not only dangerous, it's also less fuel-efficient.
Check the date and condition of the batteries. If they are old and in bad shape, replace them. Carry a good set of jumper cables that are constructed of 4-gauge cable or heavier; 2-gauge is ideal.
Travel
Traveling in the winter can often be hazardous which, believe it or not, is often taken for granted. With complex job-sites that require a lot of heavy equipment, often in remote locations, it is good to be prepared for the unexpected. Keep the following tips in mind when you're travelling to and from environmental drilling sites in colder weather:  
A Real Life Example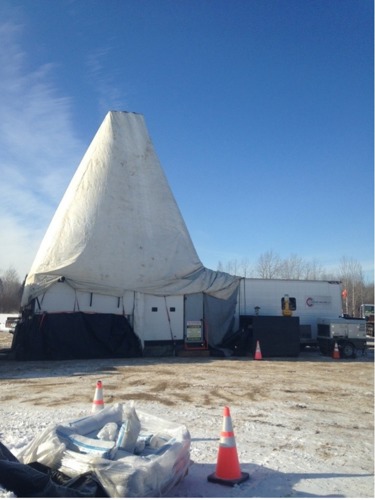 One of our complex job sites in Northern Minnesota is a perfect example of planning and preparation.This job involves elaborate mud systems and deeper holes in excess of 2000' with temperatures that regularly stay below zero for weeks at a time. A job of this type requires the drill to operate 24 hours a day as shutting down and starting back up the next morning is not feasible.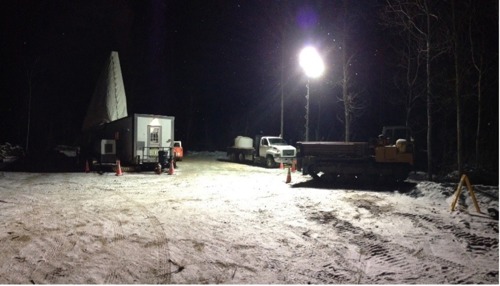 To handle the harsh climate, a full drill and tooling enclosure was fabricated. Tower socks and portable tooling trailers keep everything out of the weather and are kept warm with large portable diesel-powered heaters. All drivers are required to complete winter driving training and all ETA times are communicated between night shifts and day shifts. Mandatory check-ins are also required when the crew arrives at the motel safely. Regular maintenance is done in the field and performed on all drill rigs, generators and light plants. A large selection of spare parts is kept on hand, including extra PPE, belts, batteries, fuel filters, hydraulic hoses and pumps, and other common wear parts.The planning and preparation with the extreme weather conditions in mind allows us to drill successfully in even the harshest climates, 24 hours a day.