- Cascade
The dust has finally settled after another successful Battelle Conference. We hope it was a productive week for the 1600+ attendees that make the trek to Palm Springs. There was a strong international presence this year as environmental professionals from around the globe gathered to exchange information on a wide range of site investigation and remediation topics, from emerging contaminants to combined remediation technologies.
Here at Cascade, we appreciated the opportunity to get together with our consulting clients, talk about what's new at Cascade, and discuss upcoming opportunities for partnerships in field services.
Learning Labs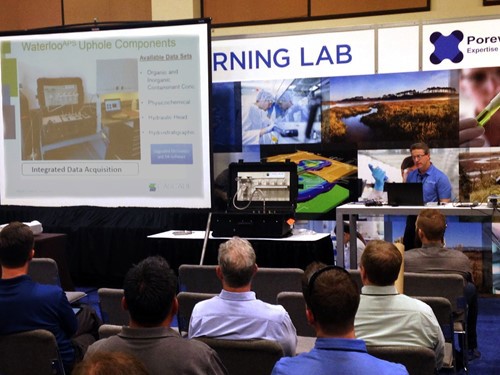 The Learning Labs were an exciting new feature at this year's Battelle conference. The lab format provided a unique opportunity for intimate hands-on learning on a variety of advanced technologies and services. Cascade was honored to offer Learning Labs on our Next Generation Smart Injection Manifold for Controlled Delivery of Liquid Amendments and WaterlooAPS™ Aquifer Profiling technology.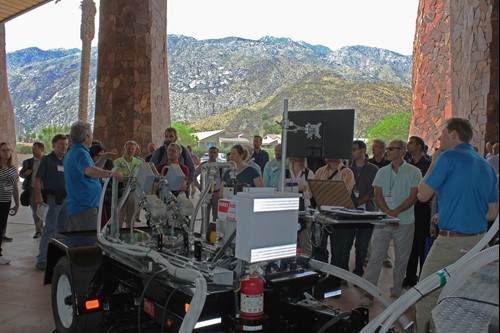 Over 70 folks attended our Smart Manifold Learning Lab, held outside the entrance to the convention center where our manifold truck was parked. Attendees saw the manifold system first-hand and were able to have their questions answered by the experts who designed and built the equipment. Another 100 or so folks stopped by the truck throughout the day to learn more about our system that digitally measures and controls injection pressures, at multiple points manifolded as necessary to meet project needs. Hands-on learning at its best! There was keen interest from attendees form here and abroad in a service rental package to provide 24/7 support at large recirculation systems, which is quite exciting!
PLATFORM SESSIONS
The platform session and poster topics certainly reflect the industry's current trends.  The use of multiple remediation technologies on a single site to achieve remediation goals faster and more cost-effectively was of particular interest for many attendees. In particular, the different advantages of combining thermal remediation and bioremediation strategies was a hot topic.
Cascade was proud to formally present to the industry, for the first time, our unified, multi-technology team offering drilling, site characterization, and remediation field services.  Attendees stopping by our booth recognized the value of our combined offerings and are excited to hire Cascade for their field service needs.  We're looking forward to working with you soon!
We invite you to check out the presentations and posters presented by Cascade's team of environmental professionals.  They are available on our website, just visit our Battelle Conference page.
Finally, we would like to thank Battelle's team of conference planners for their tireless efforts to provide a valuable learning and networking experience.  This year's event was well-organized and jam-packed with opportunities to advance progress in the environmental industry. We can't wait to see what the next conference in 2020 brings!