The environmental services industry continues to grow, attracting professionals who want to utilize their strengths and make a difference in their communities. Although for many years the industry was mostly male, there is an increasing number of women choosing to build careers in environmental services. This is the last installment for the year in our quarterly series, Women in Environmental Services, and we're proud to introduce you to Jeanette Renteria.
Meet Jeanette Renteria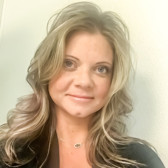 Jeanette Renteria is an Operations Manager here at Cascade, where she is responsible for running two business units in the Southwest. Her days involve a mix of hands-on work, management, and long-term planning. Jeanette has worked in environmental services for nearly 20 years, and in this blog post shares her experience and advice for other women interested in a career in environmental services.
What career did you imagine for yourself as a child?
I wanted to be a high school teacher teaching government and economics.
What career did you plan to pursue when you first started out?
I started in the banking industry as a credit analyst for large commercial loans.
What was your first job?
First job ever was as a "grease monkey"—I did front brake jobs and oil changes at a local muffler shop. I then went on to work at a bank as a part-time teller, and grew in that industry for eight years.
How did you end up in your current role?
One of my commercial loan clients was an environmental remediation company. I knew the CEO and he offered me an entry level position in his proposal department. I took the job because his office was close to my home and my son's school. My son was just starting kindergarten, so it was important to me to be close for school events and parties. I decided to start a totally different career path in order to be the mom I wanted to be, while still providing for my family.
What kind of things do you do in your current role?
Everything from loading PVC into the back of a pickup truck to managing the profit and loss statements of two business units. My work includes hiring and mentoring staff, overseeing equipment maintenance and inventory, building client relationships, managing estimates and bids, executing and managing projects, invoicing and cost tracking… and more.
What is your favorite part of this job? What about the environmental services industry?
I enjoy making business decisions and mentoring others on how to make wise financial decisions regarding day-to-day business operations. I enjoy the environmental services industry because it allows me to use my strengths in financial and business management, while also being able to go in the field, get a little dirty, and participate in project scope execution.
What degrees, training, or certifications are required for your career path?
Having a degree in an engineering field (civil, chemical, mechanical) or in environmental science would be a good idea if this is an industry you want to pursue. I do not have a college degree, but was able to work hard and position myself to learn from some of the best mentors in the industry. I found I learned just as much from the site superintendent that has been operating drill rigs and heavy equipment his whole life as I learned from the engineer with a master's degree.
What traits and/or habits have helped make you successful?
Scheduling and planning. You must "plan your work and work your plan." That applies for just about any line of work, but it is especially effective in this industry, which is governed by standard operating procedures (SOPs).
Were you provided with advice or mentorship along the way? If so, can you share what you learned?
A few things come to mind, but two really stick out:
"Keep your head down and your elbows up"—a reminder to stay focused and get the work done.
The "Six P's"—"Proper Planning Prevents P*** Poor Performance."
What would you tell other women considering a career in environmental services?
Don't wear your feelings on your sleeve—you need thick skin in this industry as well as your willingness to work hard. It will pay off with great rewards and a sense of accomplishment. Find a balance of being in the field and the office, because you'll need both experiences to climb the ladder of success.
What resources would you recommend?
Any project management courses or certifications, and an accounting class—you must understand how to make and manage money. I'd also recommend working while in school, because you learn to balance multiple responsibilities. If possible, the job should be a labor role outside, so you learn to work in the elements and understand what is common in this industry.
If you're a woman interested in building a career in environmental services, check out our Careers hub to learn more and see current job openings. You can also contact Director of Talent Acquisition Jessica Alexander if you have questions or want to learn about next steps. 
If you're already working in this industry and are interested in how other women have overcome career obstacles, make time to watch our on-demand webinar, Career Challenges for Women in Environmental Services: A Panel Discussion. In it, three women from different career stages discuss the bumps they encountered along their career path, how they tackled them, and the advice they'd give to other women in the industry.