- Deborah Shaffer Schnell
Is your site in a never-ending expenditure on a remedial system with ongoing operation and maintenance? Are you confident in the conceptual site model (CSM) that's been completed? Do you have dissolved contaminants that continue to leach into a nearby stream? Is your plume traveling off-site, creating greater liability for your client?
If you answered yes to any of these questions, your site may be a candidate for a passive treatment system called a permeable reactive barrier (PRB). In this blog post, we'll define what a PRB is, and cover seven questions you should answer when deciding if this technology is a good solution for your project site.
If you'd like to dive into a deeper discussion of PRB technology and real world challenges that pop up on a project, register for next week's webinar, Overcoming Challenges of a Deep Trenchless Permeable Reactive Barrier Installation in Dense Geology. All attendees will receive a certificate of completion, and have the opportunity to participate in a Q&A.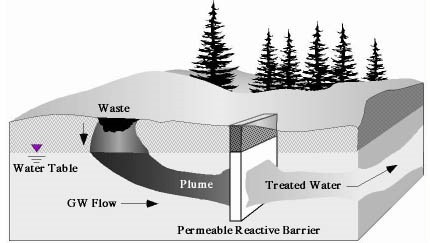 (Pence & Zwang, 2013)
A PRB is "an in-situ treatment zone designed to intercept and remediate a contaminant plume" (ITRC, June 2011). The reactive media installed in the PRB can vary based on the contaminants present; however, groundwater geochemistry may also determine whether or not the selected media will work for your site. The following list of questions can help determine if this technology may be suitable for your project:
Is there existing infrastructure that will interfere with conventional remedial technologies? If so, a PRB may be suitable for your site, but may require using an innovative installation method.


Does the site have DNAPL or petroleum aromatic hydrocarbons (PAH) present? If so, a PRB may not be right for your site.


Is the site aerobic or anaerobic? Anerobic conditions are most suitable for PRBs; however, site conditions need to be closely evaluated.


Is your contamination in bedrock? If so, a PRB may not be applicable unless an innovative installation method is used.


How fast is the groundwater moving? High velocities may warrant installation of multiple PRBs.


What is the existing geochemistry? If sulfates or nitrates are present, they may passivate the reactive media and reduce the lifetime of the PRB.


Has there been enough site characterization to develop a CSM and understand the site dynamics? The CSM should take into consideration any past remediation that was performed, as well as any future technologies considered for source areas if they have not already been addressed.
This list should help you determine if your project site is a good candidate for a successful PRB implementation that will last a projected 25 to 30 years (which is the typical lifespan we aim for). However, if you are considering a PRB solution for your site, you'll want to work with an expert subcontractor that has experience working with PRBs and understands the dynamics. They can help you identify additional data you may need if you're serious about using this technology or to fill in any data gaps.
If you'd like to learn more about PRBs, register for next week's webinar, Overcoming Challenges of a Deep Trenchless Permeable Reactive Barrier Installation in Dense Geology. If you can't make it, register anyway and we'll send a link to the recording you can watch at your convenience.