- Cascade
Tunneling is a potentially hazardous engineering practice that often requires a large investment. Proper understanding of the geology, hydrogeology, and overall subsurface conditions is paramount to a safe and lasting tunnel. Subsurface investigations have a major impact on the planning, construction, cost and feasibility of geotechnical tunneling projects. With so much at stake, tunneling professionals need a reliable drilling technology with proven results. Sonic drilling technology has proven to significantly reduce unforeseen challenges and deliver superior site investigation data when deployed for characterization of soft ground tunnels.
SONIC DRILLING IN SUPPORT OF GEOTECHNICAL BASELINE REPORTS (GBR) IN SOFT-GROUND OR MIXED-FACE GEOLOGIES IS TYPICALLY UTILIZED FOR ONE OF TWO REASONS:
To provide samples/information that enhance conventional methods, or
To provide samples/information where conventional methods fail to produce anything of meaning.
Sonic Offers Many Advantages Over Conventional Drilling Technologies
Sonic drilling ensures excellent subsurface characterization, providing engineers with the sort of expert knowledge of ground conditions essential for successful tunneling operations. No other data collection method delivers tunnel design professionals, owners, and contractors with the same quality, accuracy and detail.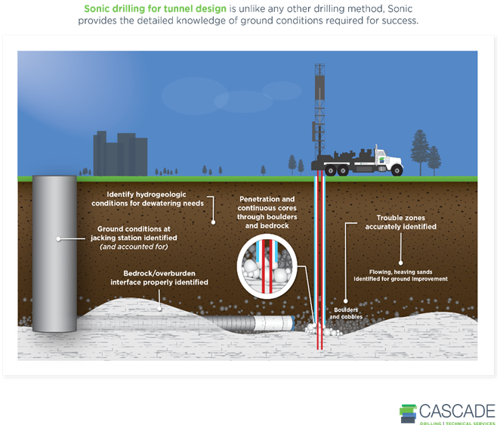 Sonic technology produces a continuous soil core quickly, through virtually any subsurface condition. It is compatible with conventional geotechnical sampling techniques such as standard penetration tests (SPT) and undisturbed sampling. These conventional sampling methods can be enhanced by either proportioning the necessary borings between sonic borings and those sampled with conventional drills, or by outfitting the sonic drill to obtain conventional as well as sonic samples.
In addition, professionals routinely use sonic methodologies for geotechnical sampling or construction efforts due to the following benefits:  
The ability to effectively handle unforeseen and adverse subsurface conditions;
Speed and efficiency;
Accuracy and precision, with minimal borehole deviation, even on angled bores;
Drill spoils/environmental impacts are minimized in high-profile urban areas.
Superior Subsurface Data Minimizes Project Risk
Superior information provided by continuous sonic cores substantially minimizes project risks keeping projects on schedule and within budget by:
Providing engineers and geologists with superior subsurface information for realistic cost estimates;
Providing contractors with key site-specific information, maximizing the accuracy of cost proposals;
Identifying natural and man-made obstructions;
Identifying ground conditions requiring physical improvement (such as excessively soft ground or flowing sands);
Defining conditions for the design and installation of ground-freezing systems;
Defining hydrogeology that affects tunneling machine advancement
Sonics' high-frequency resonance does no harm to nearby utilities or structures; and
Dry drilling techniques eliminate the risk of increased pore pressures and hydrofracturing earthen structures.
When Should You Consider Sonic Drilling for Geotechnical Investigation?
Sonic drilling should be considered any time challenging subsurface conditions are anticipated and when predictable project costs and schedules are a necessity. Engineers find themselves in a difficult position when designing with incomplete or substandard geological data. This leads to over-designing in an effort to fill that data gap. What follows is a series of costly change orders, project delays, and increased construction costs. Sonic reduces this uncertainty and the need to over-design by delivering reliable and accurate site information.
INTERESTED IN LEARNING MORE ABOUT SONIC FOR GEOTECHNICAL PROJECTS?
Are you planning on attending the North American Tunneling Conference in Washington, D.C.? If so, stop by Cascade's booth, and say hello to Key Account Director,

 

Steve Bratton.
To see a real-world example of sonic drilling in action, check out our Chesapeake Bay tunnel project, and see how sonic can be used during Geo-technical investigation.