The environmental services industry is growing, and attracts people from varied backgrounds who share the same goal: they want to make a difference. Although for many years this was considered a mostly male domain, an ever-increasing number of women are joining the ranks. Our quarterly Women in Environmental Services blog series highlights their work, how they arrived in this industry, and their best advice for other women who may be considering a similar career.
Today, we'd like to introduce you to Marti Anderson.
Meet Marti Anderson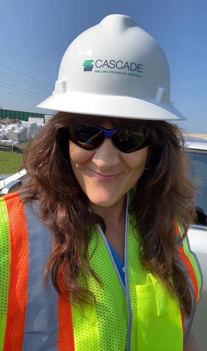 Marti Anderson is a Project Manager Associate at Cascade, where she provides support for operations and project managers as they organize the logistics of planning and mobilizing to clients' sites. She also is involved in performing job site inspections and performing risk observations to ensure the highest safety standards on every project. Marti has been working in the environmental services industry for the past 15 years, and in this blog post will draw on that experience to offer insight to others just starting out.
What career did you plan to pursue before you landed in environmental services?
I was in restaurant management for several years. Unfortunately, the restaurant closed, and I then worked as a Building Secretary at a local elementary school. Anyone who has worked in education knows that budget cuts can hit hard, and eventually they did—I had to find a new job and career path. I joined Cascade in 2007 as an administrative assistant.
What was your first job out of school?
I waitressed at a restaurant, and worked my way up to the position of general manager.
How did you end up in your current role?
I asked a lot of questions and made a point of trying to understand how different processes worked. By collaborating with everyone from the drillers to our project managers, I learned to understand their tasks and the reasoning behind our processes. It allowed me better support my colleagues and the company as a whole. I made it clear to my supervisors that I was interested in taking on more responsibility, which would allow them to focus more on the clients and drillers in the field. Communicating my desire to grow—and showing I could do it—was key to working my way up over the years here at Cascade.
What kind of things do you do in your current role?
My work really revolves around my organizational capabilities and keeping many different types of projects on track! I provide support to my local operations manager finalize invoices and accounts receivable. I assist with HR duties, and interview, hire, onboard and train new employees. I also ensure my local office is compliant with Department of Transportation (DOT) requirements by scheduling physical exams for drillers, managing driver qualification files and logs, and keeping everything current on other documentation requirements. This is all in addition to the support I provide project managers in getting everything set up for our client projects, including contracting, insurance requirements, ordering supplies, cost control, etc.
What is your favorite part of this job? How about the environmental services industry?
My absolute favorite part of this job is the people I work with. Most of our employees have been here long term and it's more of a family environment. We all work together to accomplish everything. I love working in the environmental services industry because we are working together with some great clients to make a difference in the environment.
What training was required for your career path?
Hands-on training. There's so much to know about every aspect of environmental services, that I really think one of the best things you can do is ask a lot of questions—and then jump in and put into practice what you've learned!
What traits have made you successful?
I believe I've been successful thanks to my attention to detail, persistence, and the drive to make the company better as a client's first choice and as a great place to work for employees.
Were you provided with advice or mentorships along the way? If so, can you share how it helped?
I learned a lot from my project managers and operations managers, both at the Flint, Michigan office and the Peoria, Arizona office when I worked there for three years. I've also been able to learn from other administrative assistants and office managers throughout the company.
What would you tell other women considering a career in environmental services?
To definitely take a chance, even if they've never had experience. It's a great opportunity to help make a difference.
If you're a woman interested in building a career in environmental services, check out our Careers hub to learn more and see current job openings. You can also contact Director of Talent Acquisition Jessica Alexander if you have questions or want to learn about next steps.
If you're already working in this industry and are interested in how other women have overcome obstacles to build their careers, make time to watch our on-demand webinar, Career Challenges for Women in Environmental Services: A Panel Discussion. In it, three women from different career stages discuss the bumps they encountered along their career path, how they tackled them, and the advice they'd give to other women in the industry.