Every year, more people are discovering the environmental services industry as a place where they can build a satisfying career while making a positive impact. Although for many years open roles were filled mostly by men, an increasing number of women are making the choice to work in environmental services, too. In today's installment of our quarterly Women in Environmental Services series, we're happy to introduce you to Nikole Huard.
Meet Nikole Huard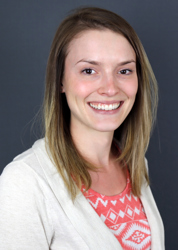 Nikole Huard is a Senior Project Engineer at TerraTherm, a Cascade Company. TerraTherm is a leading thermal remediation services company, and in her role Nikole provides support for project engineering and operations requirements, starting during the design phase and continuing through on-site activities and project completion. She's worked in environmental services for eight years, and in this blog post shares her experience and advice with other women interested in building a career in this industry.
What career did you imagine for yourself as a child?
I was interested in a lot of things as a child. For a while I wanted to be a lawyer, but I've always had a strong interest in science.
What career did you plan to pursue when you began college/training?
My degree is in Chemical Engineering, and honestly, I wasn't sure what my career path was going to look like at that point; what I did know is that I loved science, more specifically chemistry and environmental science, and that a degree in Chemical Engineering would open a lot of doors for me.
What was your first job out of school?
My first job out of school in the engineering field was with TerraTherm. I started as an entry-level Chemical Engineer, mostly assisting with the design phase of our projects, and served primarily in that role for a year or two.
How did you end up in your current role?
During my time as an entry-level Chemical Engineer, I developed interested in monitoring our sites during operations, which lead me to having more involvement in the data management part of our team. I spent a few years supporting both the process design and data management phases of our projects before eventually deciding that Project Engineering would be a good fit because it would allow me to be involved in all phases and aspects of our projects from start to finish.
What kind of things do you do in your current role?
In my current role I support all engineering disciplines to work toward developing a system design that meets the project needs and client specifications. That involves ensuring that all the appropriate equipment is sized and selected, in some cases involves conducting process hazard analyses, developing drawing packages and design reports to present that information to our clients, etc. Once the design is approved and the project transitions into the construction phase, I help complete material take-offs, coordinate getting our equipment and materials to the project site, coordinate system commissioning efforts, etc. After our systems have been fully commissioned and we transition into operations, I support the field crew with troubleshooting and maintenance activities, support site sampling efforts, as well as reporting and presenting operational updates to our clients.
What is your favorite part of this job? How about the environmental services industry?
Being involved in all aspects of our projects is very rewarding because you get to see a remedy through from start to finish and walk away feeling like you truly made an impact for the environment and the community. This job also keeps me on my toes and challenges me every day because every project is different and presents its own set of unique obstacles. I enjoy being a part of this industry because we all have a common goal of trying to clean up the earth and work collaboratively to find solutions that are both effective and sustainable.
What degrees/training/certifications were required or helpful for your career path?
I have a B.S. in Chemical Engineering, with an Environmental Concentration, from Worcester Polytechnic Institute, and I was also required to complete the 40-hr HAZWOPER training prior to any on-site work when I started with TerraTherm. The HAZWOPER training is refreshed annually.
What traits and/or habits have helped make you successful?
I tend to be very organized and detail oriented. Action items lists have been a big tool for me to keep track of my project activities, responsibilities, due dates, etc.
Were you provided with advice or mentorship along the way?
Absolutely. I don't believe anyone gets anywhere without a little bit of advice and support from others. The people that I have worked with at TerraTherm over the last eight years have helped me strengthen my skills both professionally and personally. I think there is a lot to be learned from people that have more experience than I do and a little positive feedback from your colleagues can go a long way. A few select people that I work with have really pushed me to be the best version of myself professionally, which lead me to take some leaps with my career path that I may not have otherwise taken. It's easier to venture out of your comfort zone when you feel supported, and you have people in your corner.
What would you tell other women considering a career in environmental services?
If it interests you, go for it! There are so many different career paths that you can follow in this industry and there are companies that will support your professional growth. You will have opportunities to travel, conduct field work, develop professional relationships with some industry experts, and it is certainly never boring!
What resources would you recommend to them?
Networking is so important. Get involved with organizations like Society of Women Engineers, or Engineers Without Borders. When you get involved and can meet people, you get a lot more insight about what kinds of jobs and career paths are out there, you create professional connections with people that can open doors for you later.
If you're a woman interested in building a career in environmental services, check out our Careers hub to learn more and see current job openings. You can also contact Director of Talent Acquisition Jessica Alexander if you have questions or want to learn about next steps. 
If you're already working in this industry and want to connect with other women in environmental services, join us for a networking event at the Battelle Chlorinated conference! Register ahead of time, and we'll have a mini memento waiting for you there.