- Cascade Environmental
Auger drilling can trace its lineage back to 250 BC, when Archimedes invented the first known auger that moved water uphill. Even though drilling came later, it's clear that this is one of the oldest technologies in the world—but that doesn't mean you know how it works.
If everything that you know about Archimedes and augers is a hazy memory (or you don't remember at all), that's okay—in this blog post, we'll give you an overview of auger drilling.
WHAT IS AUGER DRILLING AND HOW DOES IT WORK?
Auger drilling uses a drill bit that looks a lot like a screw—it's made of steel casing, with curved flights that are rotated while the rig drill head applies pressure to move the bit further into the ground. The rotation of the flights is important, because it mechanically moves material to the surface.
Augers can be mounted on a variety of machines or trucks, and come in different lengths and diameters—anywhere from 2 to 18 inches.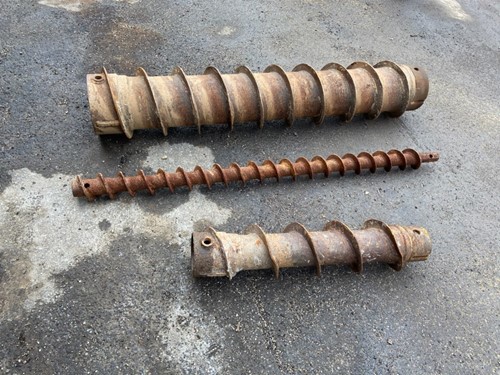 WHEN IS AUGER DRILLING TYPICALLY USED?
Auger technology is extremely versatile and can be used on environmental, geotechnical, dewatering and construction projects. The most common reasons to use it are for soil borings, setting wells, collecting groundwater (just like Archimedes dreamed!) and gathering geological data.
Auger is great for geologies containing sand, gravel, clay or urban fill. It's also a good choice when a deep hole is needed—many other methods can't achieve the same depths that auger can.
WHAT ARE THE PROS AND CONS OF AUGER DRILLING?
There are a lot of upsides to using auger drilling:
It's capable of deep drilling.
Drilling fluids aren't required with auger technology (which provides a cleaner sample for environmental projects).
There's a wide range of boring diameters that can be achieved.
It can be mounted and used on nearly any rig or truck.
It's a cost effective technology.
But, as with any drilling method, there are drawbacks:
It has limited ability in heavy urban fill (such as concrete, brick and wood) and dense till.
This technology can generate more waste than other drilling methods, which will require disposal.
HOW DO I KNOW IF AUGER IS THE BEST OPTION FOR MY PROJECT?
Once you review geological data for the area and have a drafted scope, you'll want to discuss your project with an experienced drilling contractor. Ideally, you'll speak to one that offers multiple drilling technologies so you get a technology-agnostic opinion. This person should be able to save you time, as he or she can bring potential drilling challenges to light during the planning phase, allowing you to address them in advance.
Archimedes' favorite drilling method is one of the oldest technologies around, but it's still in use for good reason. If you'd like to talk to someone about using auger on your next project, let us know.
If you'd like an overview of the drilling technologies used on environmental and geotechnical projects, watch our Drilling 101 webinar or read our Drilling 102 blog post.