- Cascade Environmental
Conceptual site models (CSMs) are one of the most important tools environmental consultants have in developing a site characterization program and planning subsequent remedial actions. CSMs identify sources and migration pathways of contaminants of concern (COCs), such as physical geologic and hydrological nature of the site, moisture content in the vadose zone, chemical properties of the COCs, etc., and it is important that the site model is as complete and accurate as possible. Soil vapor sampling is a simple but effective way to build out a more complete CSM by determining the migration of vapor-forming chemicals from a subsurface source.
VAPOR-FORMING CHEMICALS
The more common types of vapor-forming chemicals are volatile organic compounds (VOCs) and polychlorinated biphenyls (PCBs).
VOCs are organic chemicals that have a low boiling point, which gives them a high vapor pressure at room temperature. It means they easily vaporize under normal conditions. Examples of VOCs include petroleum hydrocarbons, trichloroethene, and tetrachloroethene.
PCBs are organic chlorine compounds that have been banned in the US since the late 1970s due to their toxicity. They previously were used in applications such as coolants and heat transfer fluids.
HOW SOIL VAPOR SAMPLING WORKS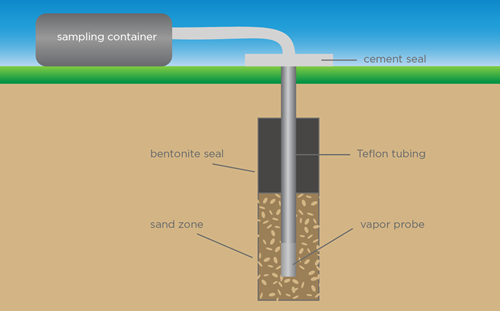 Soil vapor sampling works by extracting and sampling the off-gases of contaminants in the soil. This is done through the construction of a soil vapor well. A soil vapor well will typically be installed using quarter-inch Teflon tubing with a vapor probe attached to the end. The construction of the wells vary in total footage, but most are constructed with a sand zone at the bottom of the well, a bentonite seal above it, and then lastly a concrete or cement finish at the surface. Once these wells are installed and ready to be extracted, they are put under vacuum and the vapors are pulled out into a sampling container.
WHY SOIL VAPOR SAMPLING
On sites where VOCs and PCBs are present, soil vapor sampling can assist in not only detecting whether there is vapor intrusion but also identify near-term safety hazards and acute health effects. Areas affected by the release of these vapors are known as receptors, which is determined by the source of the contaminant and its concentration. Other variables, such as groundwater flow, depth of water table, and lithology, also play a large role in determining the concentrations of VOCs or PCBs in receptors. Buildings are one of the most common receptors for vapors to accumulate to hazard levels, largely due to vapors' ability to travel through cracks in the floors, walls, or even in the foundation slab. Lack of efficient air circulation can also increase the likelihood of higher VOC or PCB concentrations.
These are all important factors in the site characterization process, as they will help guide remediation prioritization and planning based on any human safety issues that might exist.
Soil vapor sampling is not the primary tool used to determine a remediation plan, but overlooking it on relevant sites leaves potentially important information off the table. Properties, where there is a concern regarding concentrations of vapor-forming chemicals at or near a vapor source, should consider utilizing soil vapor probes.